Products of the "Sashimi Revolution"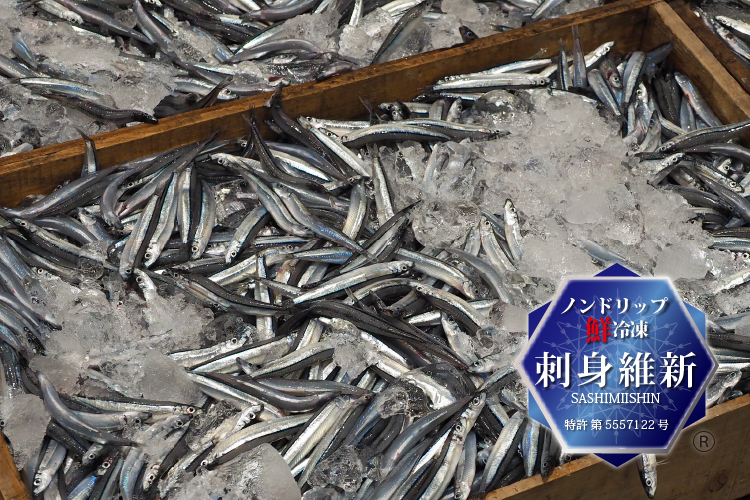 Our products of the "Sashimi Revolution" are the patented original products that are quick-frozen fish for sashimi using the non-drip rapid freezing technology. Everywhere in the world, you can enjoy local fish from Kagoshima that previously inedible because of going bad easily.
Jackknife shrimp
Banded blue sprat
Flying fish
Bigfin reef squid
Sailfish
Red sea bream
Mackerel
Horse mackerel
Lightly dried fish (Banded blue sprat, flying fish, squid, barracuda, horse mackerel, mackerel), etc.
You can get tasty tuna at Tsumagari Shoten, Kagoshima!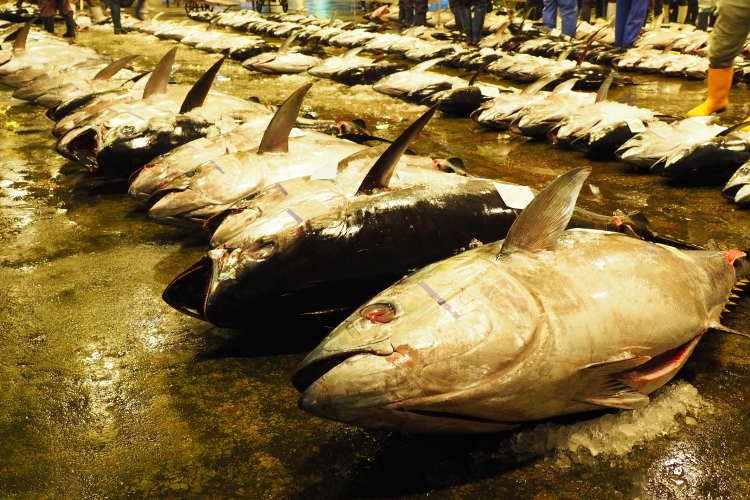 Our main product is tuna.
We originally have run a business as a "tuna expert wholesaler."
Kagoshima ranks in the top-class among the prefectures active in the fishing industry in Japan.
Kagoshima is the tuna-rich prefecture. The southern bluefin tuna catch in Kagoshima is the greatest number in Japan, the bigeye tuna catch is the second-largest number, and the yellowfin tuna catch is the sixth, and also the amount of cultured bluefin tuna in Kagoshima is the second largest in Japan.
We judge the tuna at the Kagoshima fish market every morning and deliver for you.
Fresh local fish is also popular!
We provide a wide variety of seasonally fresh, local fish from the vast ocean extending 600km from north to south around Kagoshima.
Seasonal local fish in Kagoshima
Introducing examples of local seasonal fish. Since there are various opinions about their season, take this only as a guide.
Fish best in spring
Jackknife shrimp
Sea bream
Bonito
Flying fish
Fish best in summer
Bigfin reef squid
Banded blue sprat
Octopus
Grunt
Fish best in autumn
Sailfish
Japanese spiny lobster
Amberjack
Chub mackerel
Fish best in winter
Yellowtail
Girella
Flatfish
Sea cucumber
Seasonal local fish in Kagoshima we provide
Introducing local seasonal fish that we provide with some recommended serving ideas.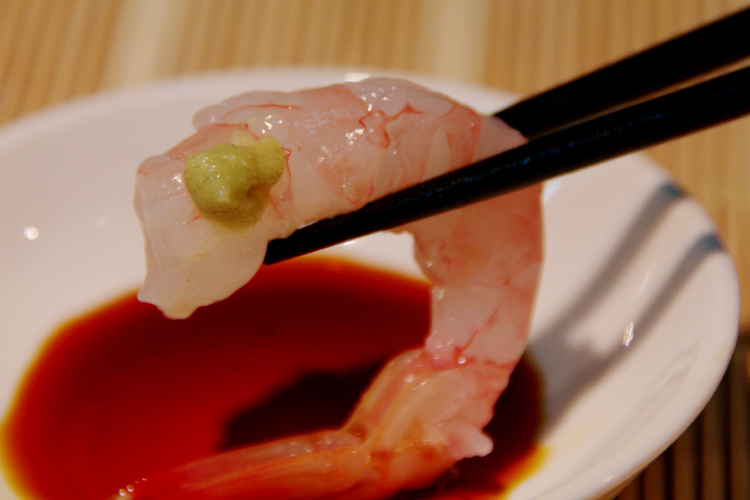 Jackknife shrimp
The sweet, elastic feeling is good for sashimi, fries (including its heads), or kakiage (deep-fried vegetable strips, shrimp, etc.).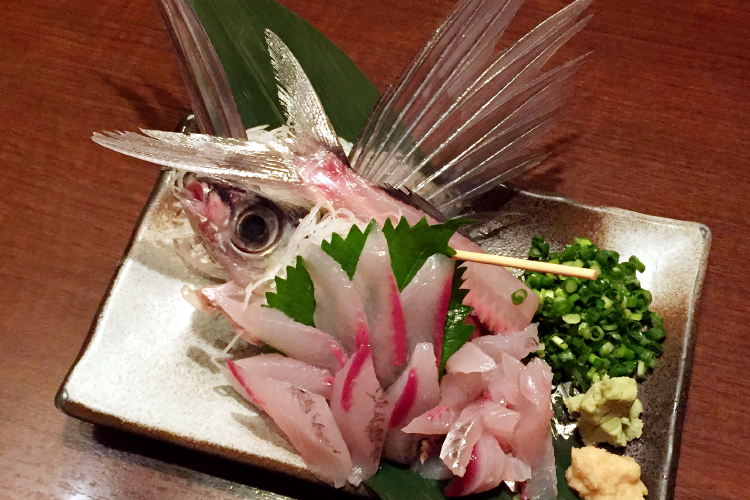 Flying fish
Fresh flying fish is good for sashimi. Whole fried flying fish is great, too!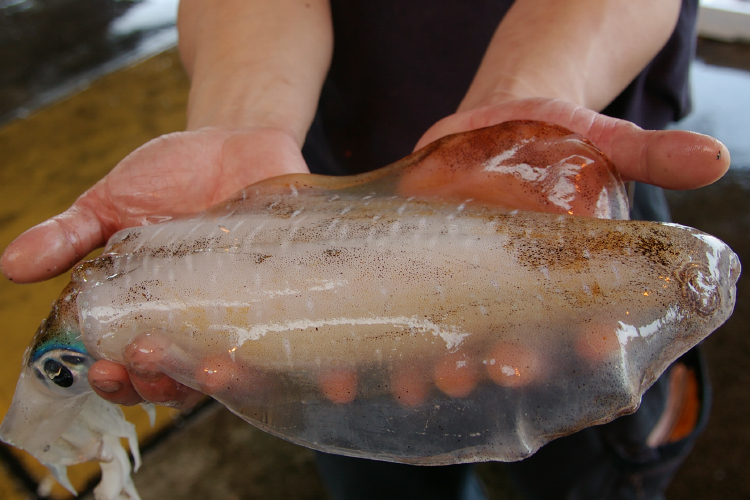 Bigfin reef squid(Oval squid)
They are called "Oval squid" in Kyusyu, it's great for its crunchy feeling on the tongue.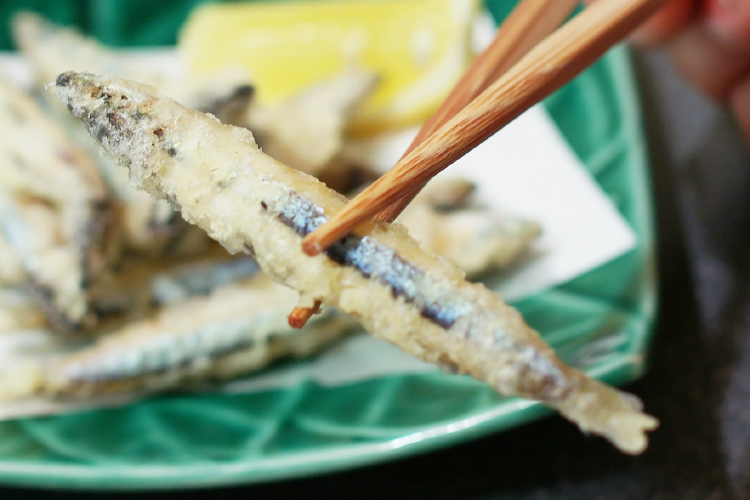 Banded blue sprat
Female with roe caught in early summer is good for fries. Make it to sashimi with hands. It goes with vinegared miso!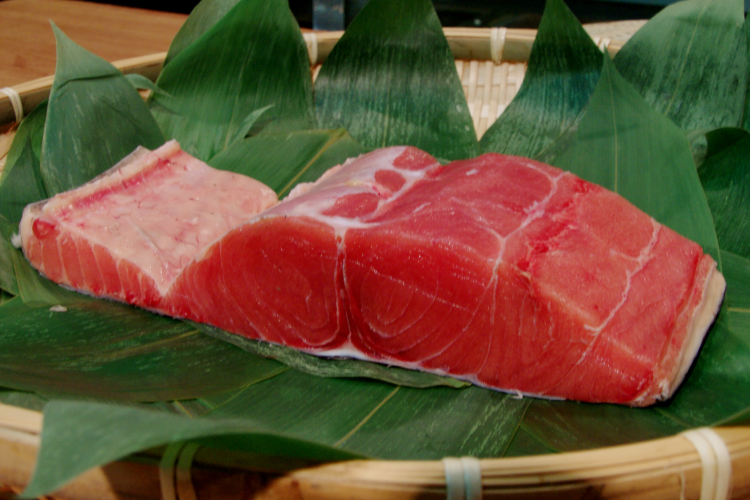 Sail fish
Fall flavor of Kagoshima, "Sailfish". How about enjoying the beautiful salmon pink sashimi.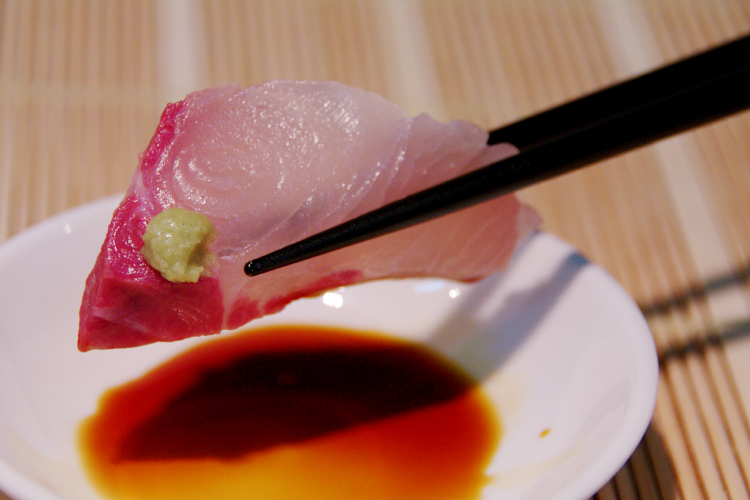 Amberjack
Kagoshima is famous for Amberjack. Its crunchy feeling and the taste are exceptional.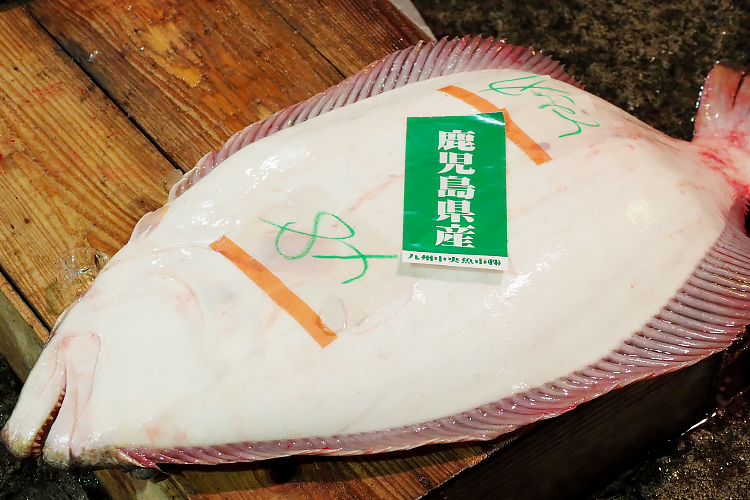 Flounder(Flatfish)
Expensive white-meat fish are great in winter. Good for in a simmered dish, grilled, or sashimi.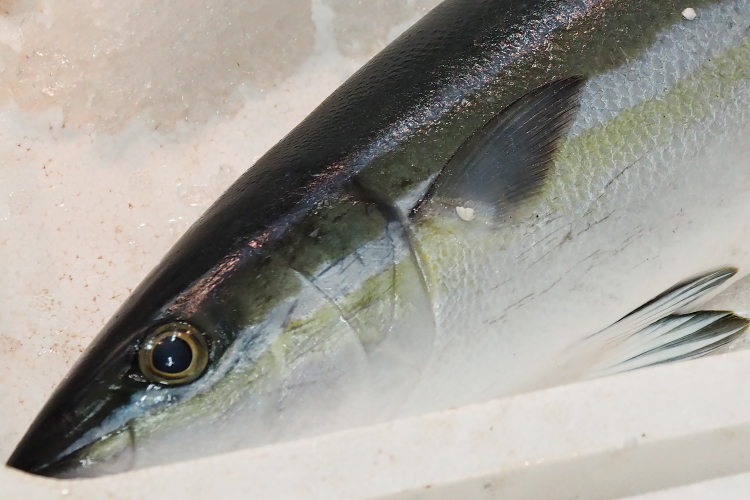 Yellowtail
It has a robust flavor! Fatty winter yellowtails are good for sashimi and teriyaki.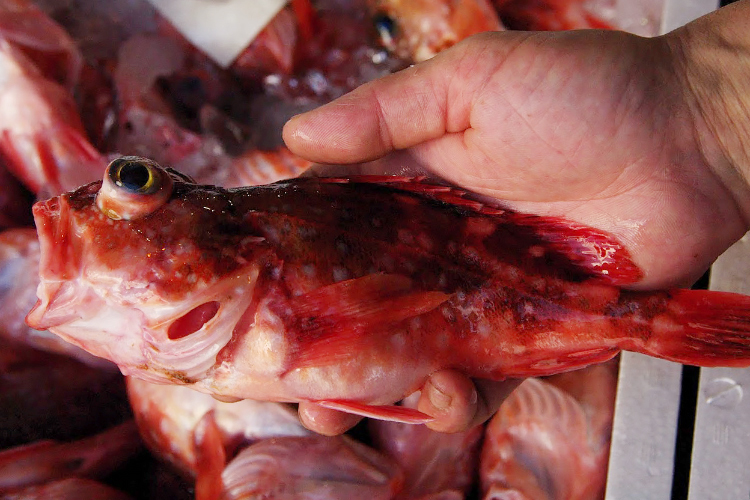 Rockfish(Marbled rockfish)
They are called "Marbled rockfish" in Kyusyu, good for deep frying, in miso soup, or simmered dish.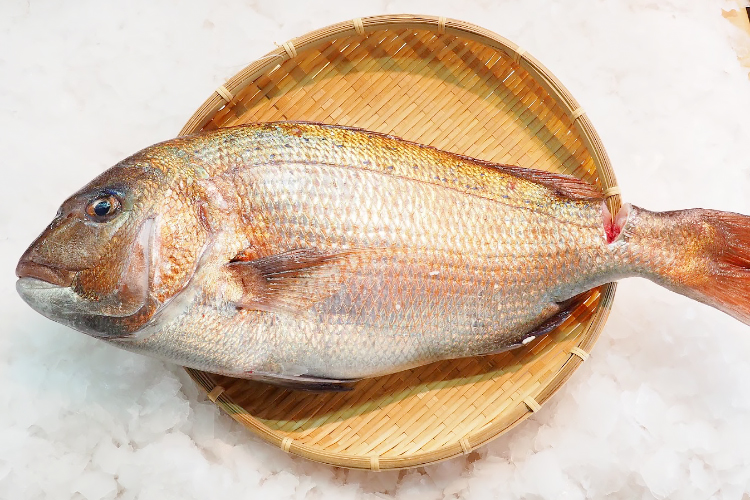 Red sea bream
Good for whole roasted or acqua pazza. Also good for sashimi or poeler. So almighty!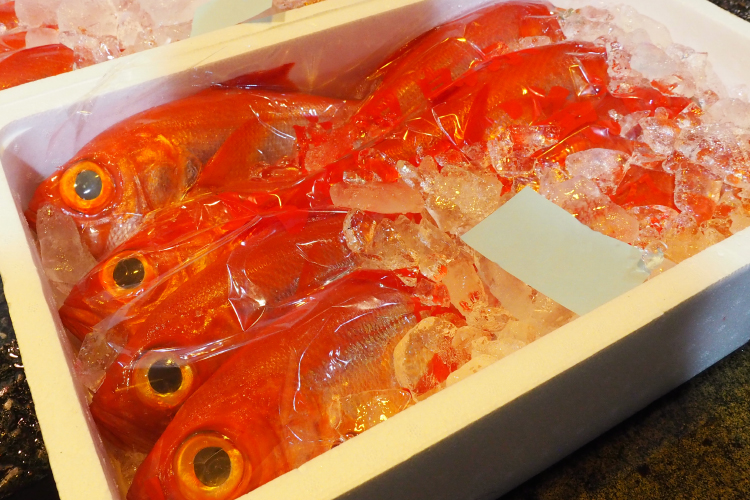 Alfonsino
How about making yujimo (pouring hot water) with fatty alfonsino? Simmered with salty-sweet sauce or acqua pazza is delicious too.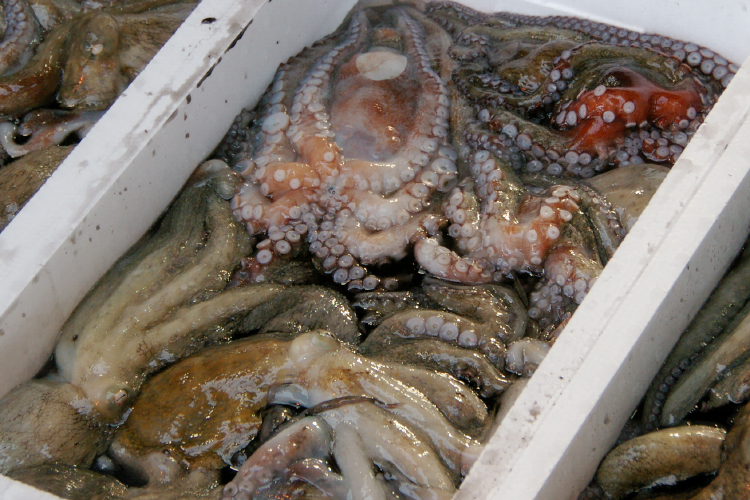 Octpus
Nagashima and Kinkou bay are the famous areas of octopus. Remove the slack and boil, cook it to various dishes.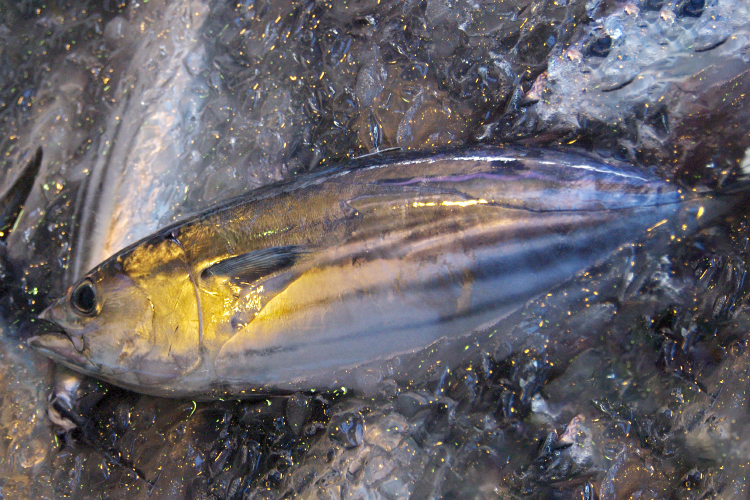 Bonito(Skipjack)
Kagoshima is the top producer of Katsuobushi (dried bonito)! Shuto (salted fish guts of bonito) and processed stomach side of bonito are tasty. Fresh bonito is good for tataki or sashimi.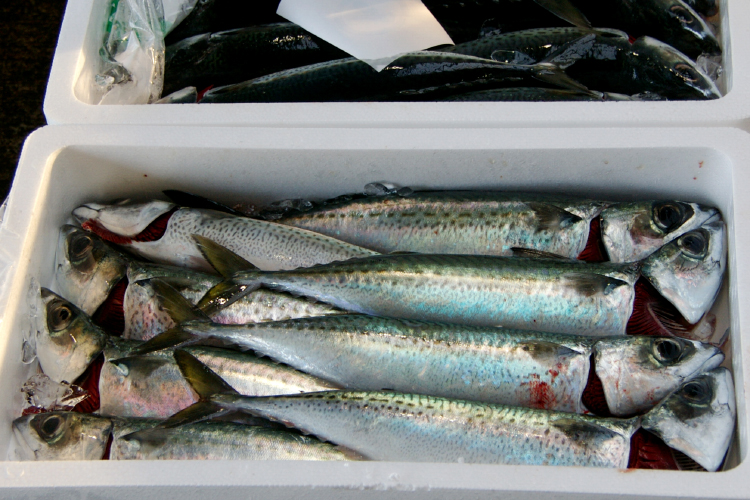 Mackerel
Famous for sashimi of Kubiore Saba (neck broken mackerel) in Yakushima and Sababushi (dried mackerel). Also good for Shimesaba, Tatsuta age, simmered with miso, dried.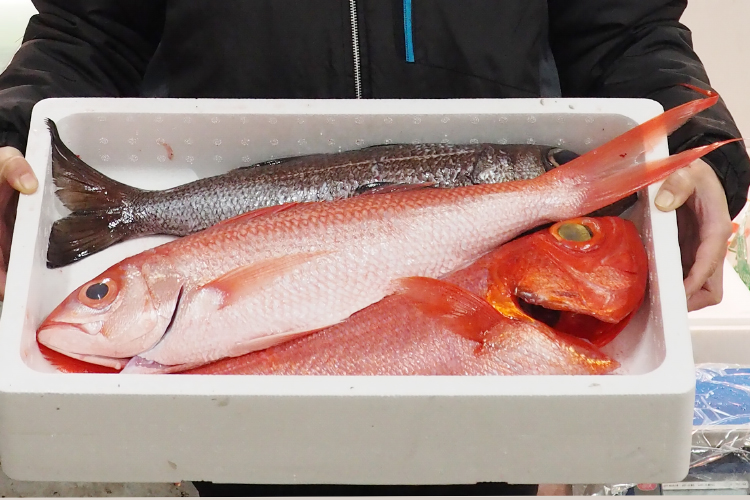 Ruby snapper(Longtailed red snapper)
Usually served at sushi restaurants or Japanese-style luxury restaurants. The taste between its skin and meat is great, don't get rid of the skin!
Processed products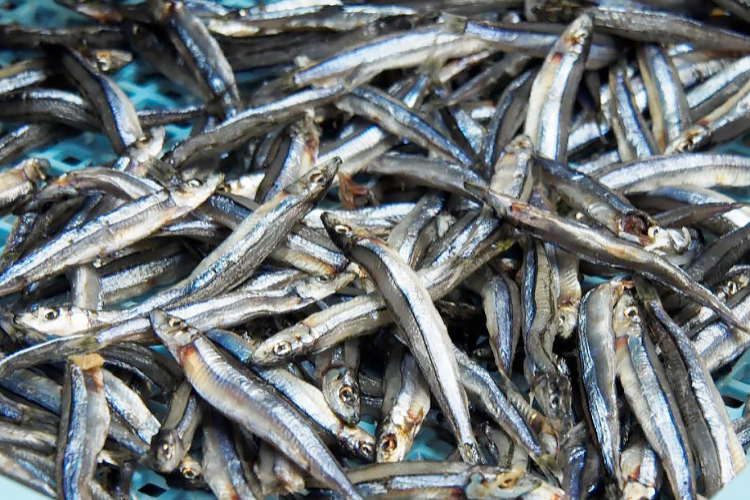 We also have the various processed product. Especially, our original handmade additive-free dried fish is popular, and orders have been pouring in from around the world.
We get fatty seasonal fish at the market and make it to dried fish while it's fresh so that you can feel its softness. Also, it can be stored for quite a while by processed through our non-drip rapid freezing.
Lightly dried fish (Banded blue sprat, flying fish, squid, barracuda, horse mackerel, mackerel)
Shuto (Bonito, tuna)
Salmon row
Salted cod roe spiced with red pepper
Salted herring roe
Dried bonito, Tsukudani (boiled in sweetened soy sauce), etc.
"Tuna disassembling performance"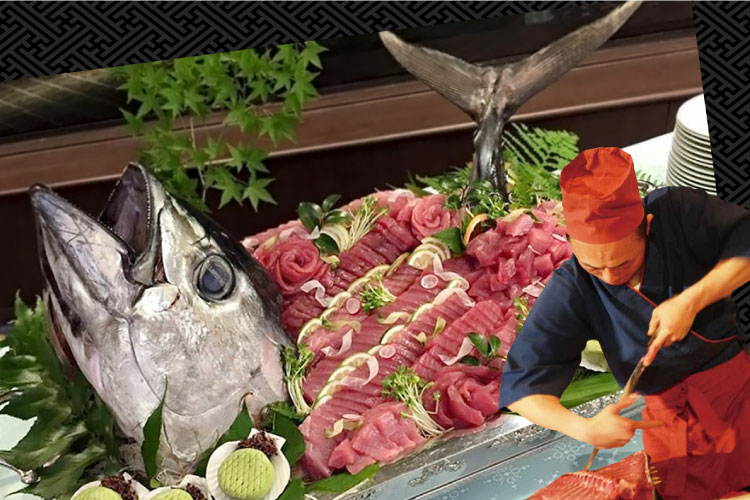 We provide an impressive "tuna disassembling performance".
The professional judge of fish selected tuna is excellent, both freshness and taste. You can also enjoy the rare parts of tuna with explanations.
We offer an appropriate and effective arrangement at events, auspicious occasions, wedding ceremonies, banquets, and parties, depending on the customer's needs. Please feel free to contact us.
Contact us
Please feel free to contact us about business transactions.